IBRIDO
, in its various forms
, is a chamber ensemble with an atypical line up. The band is composed by musicians from diverse linguistic, united by a common interest in the composition, elaboration, execution and improvisation. The ensemble, founded in 2005, is linked to the concept of "hybrid", understood as music always in the balance between writing and improvisation, in synergistic relationship between an implant mainly jazz and the ways and sounds derived from the tradition of the modern and contemporary western music. The ensemble has recorded as Ibrido Hot Five (Antonio Apuzzo: reeds, Pino Capomolla: flute, Gianni Di Ruzza: oboe, Giuseppe Tortora: cello, Gianluca Taddei: double bass), in 2006, the first Cd Nothing to kill or die for (Blond Records), presented at Casa del Jazz in Rome. The title track was selected in the final round of the International Songwriting Competition 2007. In 2009 the band recorded as
Ibrido Hot Six
(Antonio Apuzzo: reeds, Francesco Fratini: trumpet, Pino Capomolla: flutes, Gianni Di Ruzza: oboe, Sandro Lalla: bass, Gianluca Taddei: double bass), the second Cd L'Eclisse - musiche invisibili per 6 esecutori e 11 strumenti (Dodicilune), and has been reported in the Top Jazz 2010 organized by Musica Jazz magazine, appearing in seventh place in the ranking of the best groups of the year. In the spring of 2010 the ensemble recorded, again as a Ibrido Hot Six, the third disc
Ibrido Hot Six plays Acquiring The Taste
, Cd attached to the book Gentle Giant: i giganti del prog-rock written by Antonio Apuzzo for Stampa Alternativa (Collana Rock People). Also in 2010 the band records, live, a program for La Stanza della Musica, Radio Tre Suite, plays in Genoa and Venice, and on the occasion of the publication of the book on Gentle Giant, presented to Casa of Jazz, playing in Forlì, Verona and Rome, with Gary Green and Malcolm Mortimore, two former members of the historical English band. Between 2011 and 2013 Gianni Di Ruzza left the band and the ensemble becomes a septet with the violist Andrea Amendola and percussionist Luca Bloise In 2012 the ensemble has participated at the Pisa-ExWide Festival, and opened for Three Friends in Trieste (guest guitarist Francesco Diodati). In 2013 the band played at the Casa del Jazz and National Festival of Jazzit. Also in 2013 the ensemble records, finally as Ibrido Hot X, his fourth Cd "D'un dolcissimo incanto al bel godere" (Tweedle Music).
In 2015 the group is consolidated with the entry of Arianna Bloise at the viola, to then change skin and define in 2018 a new version, the Blue Hybrid, which in addition to the "seniors" Apuzzo, Capomolla,
Lalla and Taddei, sees the entry of Umberto Coletta at piano, keyboards and electronics.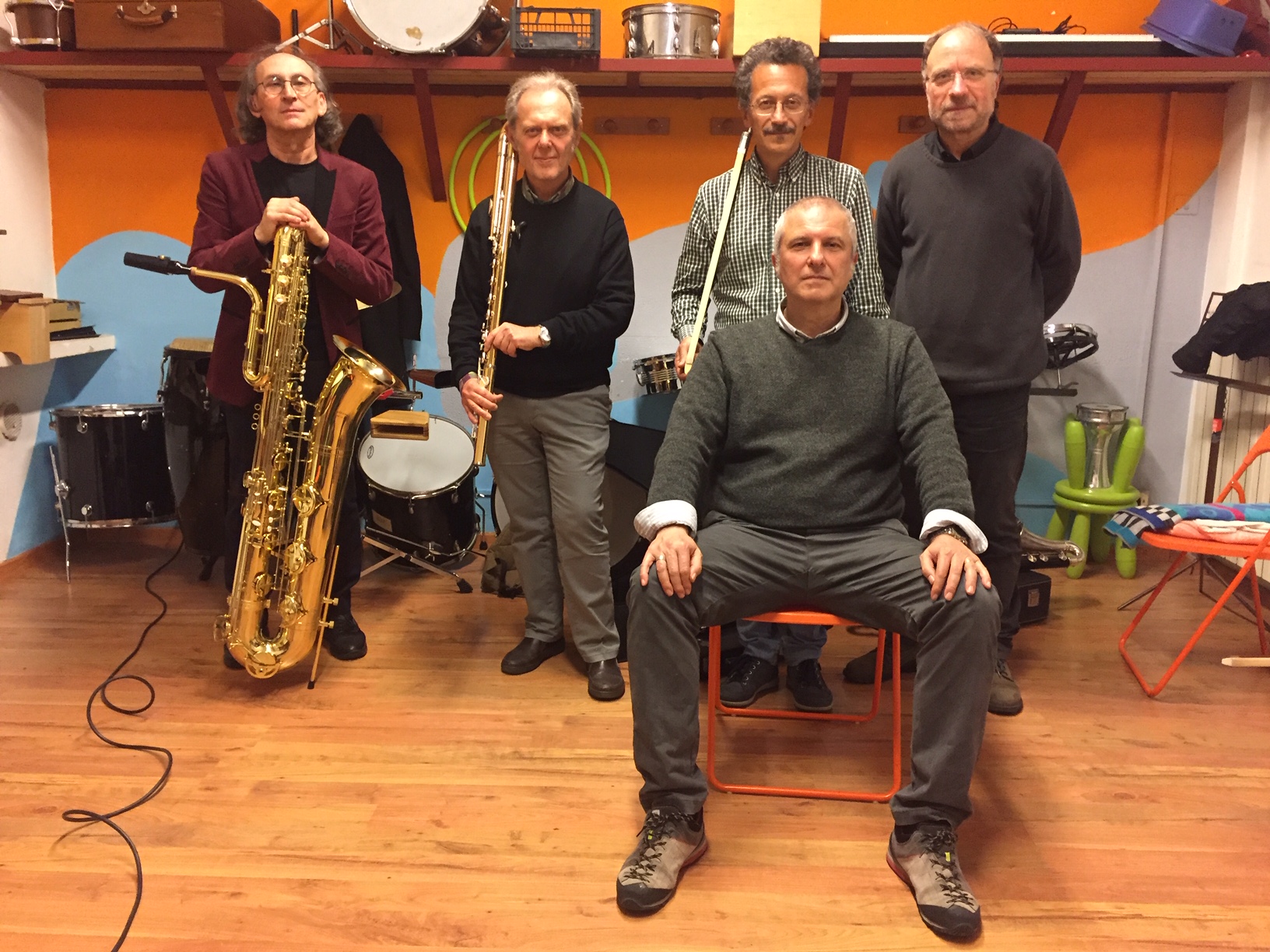 | IBRIDO AZZURRO 2018 |